Charity Orders New Hyperbaric Chamber.
Mon, 09 Aug 2021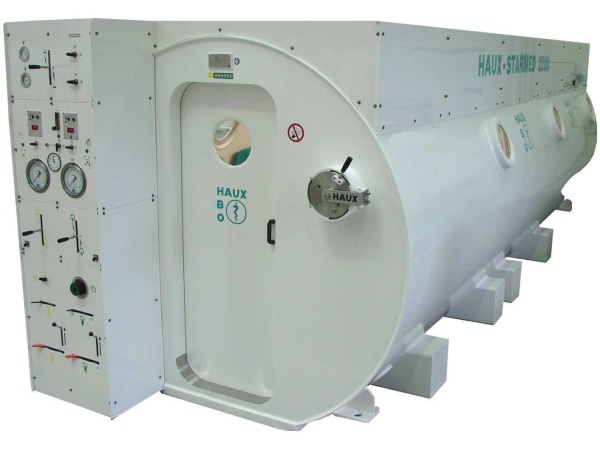 The Isle of Man's Hyperbaric Chamber Charity is delighted to announce they have recently placed the order for a new hyperbaric chamber from Haux of Germany.
At the time of placing the order the charity made its first stage payment amounting to £157,000.00. With funds accumulated last year the second stage payment will be paid in the autumn of 2021. Much of the third stage payment due of £131,000.00 before shipment is still needed. However, since the Covid restrictions have been lifted the charity has sought Charity Champions assistance with fundraising activities now happening throughout our island. The charity will also be contacting financial benefactors who have already made pledges to fund the chamber.
The chamber will take approximately 9 months to manufacture and ship to the island. It will contain the latest equipment and be able to treat diving casualties as well as patients suffering from a range of illnesses, when previously there were two separate chambers employed to do the same.
Chairman of the hyperbaric chamber charity John Watterson said " As trustees we were very pleased to sign the purchase contract for the new chamber with the world leading manufacturer "Haux" Our Islands population needs it and it is no less than they deserve. In the future it is envisaged that the Isle of Man will be back on the map as one of the 12 Hyperbaric Medicine Facilities in the United Kingdom. Particularly I have to thank the Dr Scholl Foundation among all of the many people who have donated to HBOT IOM so generously to put us in the position we are in today"
Fellow Director Debbie Barron said "This is a monumental day for our charity and half way to making it a reality. We now have to undertake the major building works to the facility, all necessary and complimentary for the services needed when the facility opens once more. I must take this opportunity to thank local building suppliers for their support to date, Easymix, Qualtroughs, Cuplas, MacBlairs, and Corletts and not forgetting the enormous contribution by our volunteer builder who has greatly assisted the charity in achieving our stated aims and not forgetting that this work is still continuing."
When the charity has raised all of the money needed for the chamber the intention is to launch a second campaign for funds which will be set aside for the refurbishment costs of the facility and further costs of new hyperbaric equipment, training, medical gases and sundries for patient usage before we are able to open.
The charity continues to warmly welcome any donations or fund raising events towards this campaign and if anyone would like to write or call in to our Peel Road facility to discuss fundraising or leaving a legacy they are most welcome to do so.
Our details are: Registered Charity HBOT IOM No: 1274 Hyperbaric Medicine Facility, Scholl Building, Peel Road, Douglas, Isle of Man. IM1 5ED. Tel: 626394, Email: hbotiomltd@gmail.com Website: www.hbot.im
---